Welcome to PT. INSEMA SUNLY ENGINEERING
PT. INSEMA SUNLY ENGINEERING was formed under RSEA Engineering Corp at Taiwan when 10 large scale of infrastructure projects owned by the government was launched in 1976. All kinds of construction activities were prosperous on the island. During this period of economic growth, RSEA reached out to tap the international market and opened up the gate to international engineering business.
Our company took this opportunity to undertake some projects specifically in exectution of pile foundation works such as the China Steel Cooperation Project, Su-Oau Harbor Project, Sing-Dar Steam Power Plant Project, Tau-Yung International Airport Project, Chun-San Expressway, City Skyway and Fei-Chei Reservoir etc. We also joint venture with Lan Change Churn Company to undertake construction of diaphragm wall and ground anchor of Taipei MRT project in 1985. read more...

Client Login
Company News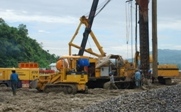 Currently one of the most competitive construction firm in Indonesia that specialize in Stone Column and bored pile Installation.
Featuring Reverse Circulation Bored Pile Work
New Method of bored pile installation using the reverse circulaton method. Installation protocols are available for clients' reference. If you would like to learn more about our construction services, please feel free to contact us and we will get back to you as soon as possible